It's Saturday morning, and we're out and about at our local Farmer's Market! Oscar is outfitted in his Puppia harness and armed with his most enchanting chihuahua smile, while I am wearing my latest hand-knit — a cozy "throw on and go" cardi with a bold houndstooth pattern. I think we make quite a team!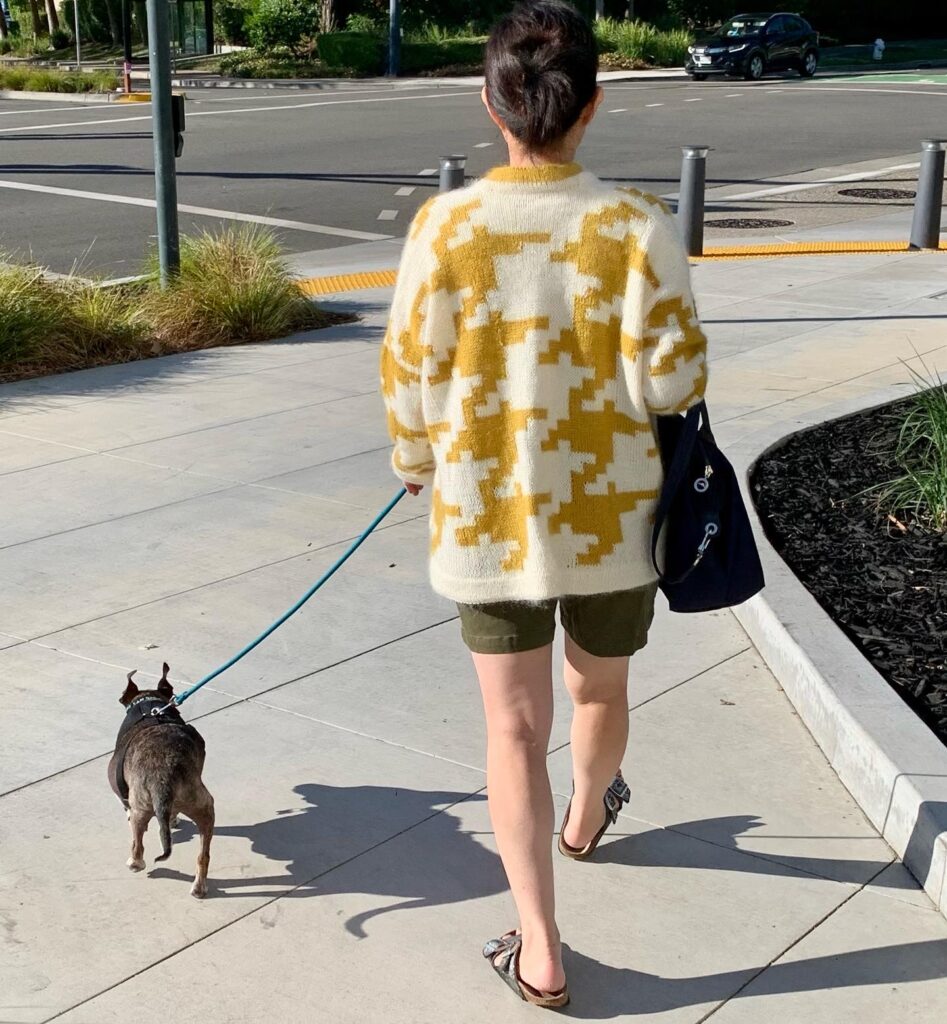 Rowan Pale Hand-Knit
The cardi pattern is from Rowan Mode Collection 6 and is knit with strands of Summerlite 4 ply (100% cotton) and Kid Silk Haze (mohair and silk) held together. With dropped shoulders, minimal shaping, and no front closures, it has an easy and casual fit. The foldover hem along the body and the sleeves gives a nice finished look as well as a bit of heft. The body (fronts and back) is knit from the bottom-up in one piece on a very long circular needle. The sleeves are knit separately and the front neckline's foldover band is knit at the end.
One caution is paying attention to sleeve length. With the dropped shoulder design, it would help to measure/try on the body (after sewing the shoulder seams) before determining the sleeve length. My sleeves ended up being a bit long.
Bold Houndstooth Pattern
The simplicity of the design allows the bold houndstooth pattern to be the star. In fact, it was the pattern that first attracted me to this project! I'm not very skilled at intarsia knitting, so managing the color changes — even though there are only two colors! — was difficult for me. The intarsia design resulted in a tangle of ends that needed to be woven in.
I wove in the ends as soon as I finished each houndstooth pattern repeat, which ended up being a good decision. It would have been completely overwhelming to weave in the ends if I had left the task for the end.
Fuzzy Texture
The finished fabric is light yet quite warm. I wet-blocked it and let it air dry, and it retained its shape well. I love its slightly fuzzy texture, thanks to the mohair fiber. But the fuzziness can also make it feel itchy, especially with short sleeves underneath!
One minor change I made was to the front neckline foldover band. I ran out of the cream-colored yarn, so I finished the band using the gold color for a two-toned look. Be sure to check the errata for this pattern before you order your yarn!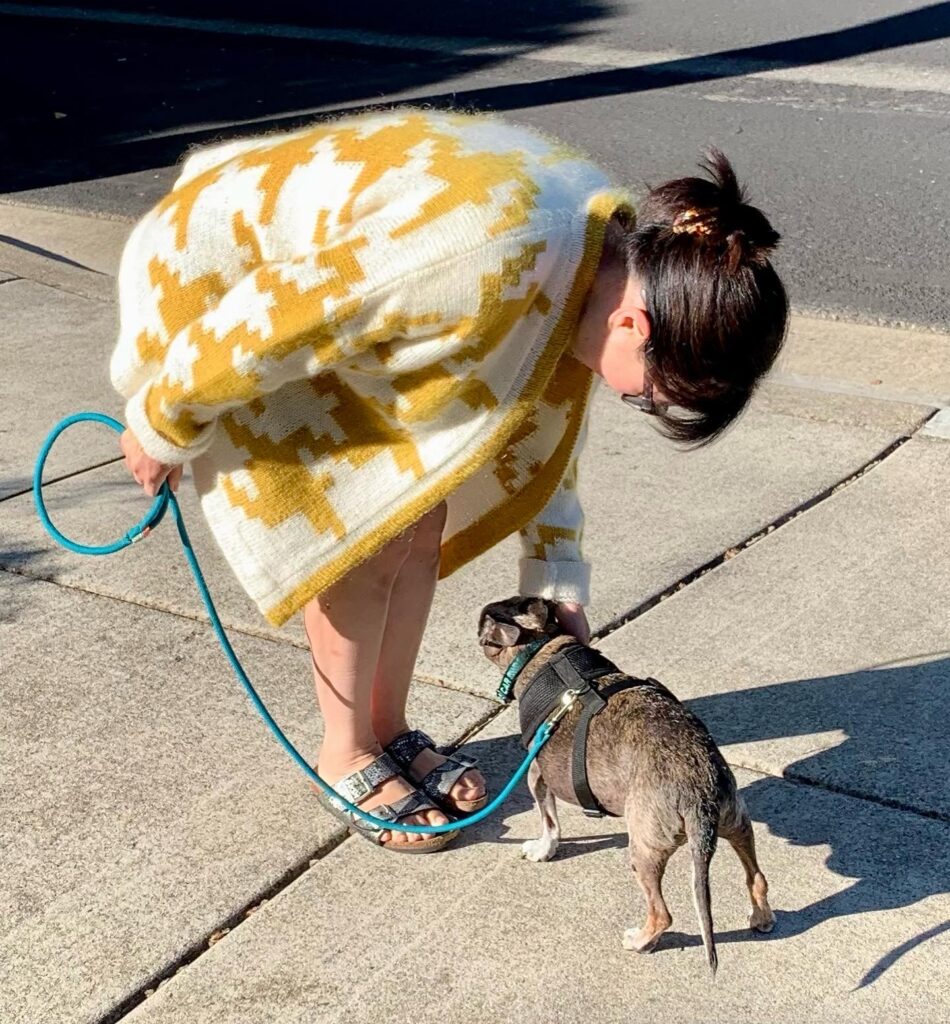 Final Thoughts
Confession time — I made quite a few pattern errors that I didn't bother to correct. Was I lazy? Yes, because by the time I realized the errors, it would have been difficult to rip out the stitches due to the intarsia work. But even with the errors, I still love this cardi. It was a labor of love to manage the intarsia knitting and weave in all of those ends, but the design is just so cool — it was worth it!